The Subaru Solterra: Subaru's First-Ever EV

Electric vehicles are becoming more and more popular, and it's easy to see why. First and foremost, EVs represent a great option for drivers who wish to be more environmentally conscious by curbing their carbon emissions. Additionally, EVs are a cost-effective option, allowing drivers to save big on keeping their cars going.
Today's electric cars, trucks, and SUVs can easily compete with any traditionally-powered vehicle for comfort, convenience, reliability, and performance. We're happy to announce that Subaru has gotten into the electric vehicle game, and soon we'll have their latest groundbreaking model right here at our dealership.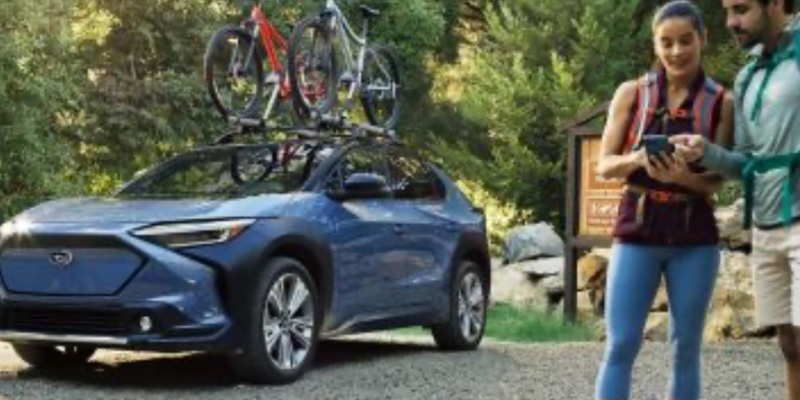 Reserve Now
Introducing the Subaru Solterra
The design team at Subaru has announced the Solterra all-electric SUV, which gets its name from the Latin words for sun and for Earth. True to its title, the Subaru Solterra is a remarkable SUV made with ecological sustainability in mind.
However, it's also made to provide drivers with the robust performance they've come to expect from Subaru's SUVs, including rugged off-road readiness and all-weather dependability provided by its standard symmetrical all-wheel drive system and fantastic ground clearance. Of course, you can also anticipate a spacious and comfortable cabin, durable design, and all the safety and reliability that's made Subaru one of the world's most famous and beloved car manufacturers. All this is wrapped up in a stylish, futuristic exterior with a sleek, eye-catching profile.
As you look for ways to reduce carbon emissions without sacrificing the quality of your ride, we think the Subaru Solterra may hold the answer. We'd love to keep you in the loop. To be one of the first to test drive this EV from Subaru, contact or visit our dealership and ask for more details.
---
Learn More About Electric Cars for Sale in Staunton, VA
Our dealership is committed to providing a full range of vehicle options, including environmentally responsible models such as hybrids and electric cars. We'd love to show you the full spectrum of options in our new Subaru inventory, as well as our catalog of used vehicles.
To learn more about the latest and greatest Subaru models, or simply to schedule an appointment for a test drive, we welcome you to contact our dealership at your next convenience.